Online Cash Game Round Up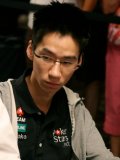 Randy "Nanonoko" Lew is having quite a good few months. In November, the online superstar won his first major live tournament when he bested a field of 575 entries to win the APPT Macau for $484,617, and he has followed that up by putting his name in the Guinness Book of Records.
The online freak of nature set up two giant monitors at the PokerStars Caribbean Adventure (PCA) and tried to break the world record for the most hands ever recorded during an eight-hour session while making a profit.
Lew, who incredibly refused to eat or drink throughout his session, wrote his name into the great book by playing 23,493 hands while turning a profit of just $7.65. PokerStars even allowed Lew to trial new software improvements to aid him in his world record attempt. Normally players can only play 24 tables at any one time. This time, however, Lew was allowed to play up to 40 tables simultaneously.
The tension mounted as Lew was up $8.91 with 17 minutes to go but he managed to stay just above the waterline and take down the world record. At one point Lew was down $1,200 and had to increase some of his table to $5/10 to try and haul himself back into contention.
With just minutes remaining Lew began to rapidly close down tables in an attempt to stay away from the red. With only one table left he picked up pocket aces and won a three-way pot to add a small amount to his stack and his record was set a few hands later.